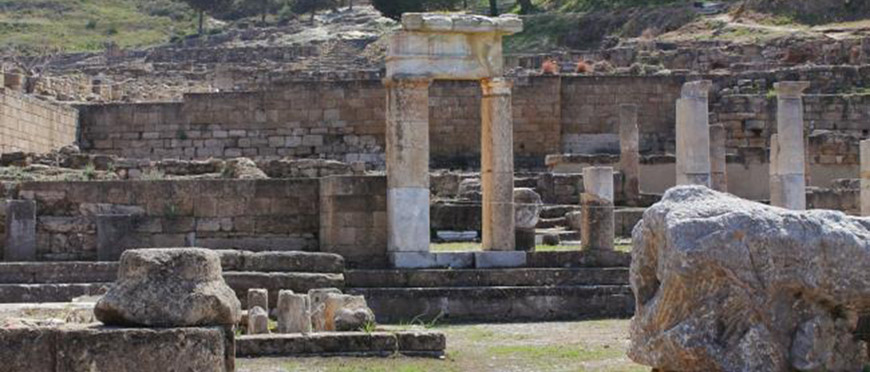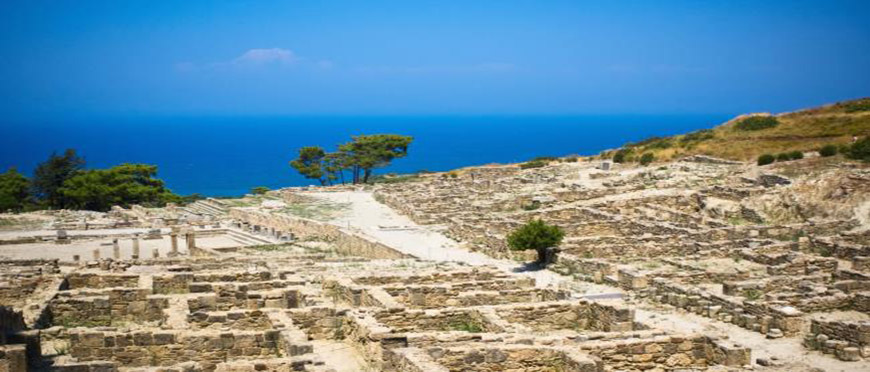 The district of Kameiros stretches along the northwest coast of the island close to the Cape of Ayios Minas (ancient Mylantion) in the foothills of Mt Akramytis. In prehistoric times the Mylantian gods, who taught mankind milling and kneading, were worshipped here. Mycenaean necropoleis have been excavated at Kalamvarda, west of Kameiros.
Finds from the Geometric period (8th c. BC) testify to the existence of a temple dedicated to Athena on the Acropolis. The earthquake of 226 BC destroyed the Classical city and probably the Classical temple of Athena Kameiras.
The Hellenistic city was built on three levels according to the Hippodamian system. On the summit of the hill was the Acropolis with the Temple of Athena and the Stoa. On the middle terrace was the settlement and lower down the Hellenistic temple, Doric Fountain-house, Agora and Peribolos of the Altars. The area was embellished with numerous votive offerings, stelai and plinths with statues. The earthquake of 142 BC destroyed the city for the second time.
The Acropolis was first excavated by Biliotti and Salzmann in the last century (1852-1864). In 1928 during the Italian occupation of the island, the Italian Archaeological School began a systematic excavation of the area along with restoration work which continued until the end of the 2nd World War.
The archaeological area of Kameiros comprises the settlement, which was built on three levels, with the following monuments: Acropolis and Precinct of Athena Kameiras. The Doric temple, a tetrastyle peripteral (with porticos on all four sides), was surrounded by a peribolos. It replaced a previous Classical temple which was destroyed by the earthquake of 226 BC. Only its foundation has survived.
MAKE YOUR RESERVATION ONLINE