---
Πίσω στο μακρινό 1989, ο ιδρυτής της Drive Plus car rentals ® σε ηλικία μόλις 19 ετών, αισθάνθηκε την ανάγκη να μετουσιώσει την αγάπη του για το αυτοκίνητο σε κάτι πιό δημιουργικό, με τρόπο που θα μπορούσε αφ'ενός να συμβάλλει παράγοντας ποιοτικές υπηρεσίες στην ισχυρότερη βιομηχανία της Ελλάδας, που δεν είναι άλλη απο τον Τουρισμό, αφ'ετέρου να κάνει επάγγελμα αυτό που λάτρευε απο παιδί. Έτσι, απασχολήθηκε επαγγελματικά σε εταιρεία του κέντρου με αντικείμενο τις ενοικιασεις αυτοκινητων, στην οποία πολύ γρήγορα αναρριχήθηκε και σε μόλις 3 μήνες ανέλαβε ως υπεύθυνος υποκατάστημα αυτής της εταιρειας στην Πάρο.
https://driveplus.gr/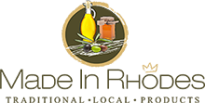 ---
Made In Rhodes είναι ένα ηλεκτρονικό κατάστημα που εξειδικεύετε στην πώληση επιλεγμένων παραδοσιακών προϊόντων του νησιού της Ρόδου σε μια προσπάθεια ανάδειξης και προώθησης των τοπικών μας γεύσεων τόσο στην υπόλοιπη Ελλάδα όσο και στο εξωτερικό. Εξερευνώντας τις κατηγορίες των προϊόντων μας θα ανακαλύψετε το εξαιρετικό παρθένο ελαιόλαδο του νησιού, μέλι και παράγωγά αυτού όπως το παραδοσιακό μας γλύκισμα το μελεκούνι ,παραδοσιακά χειροποίητα ζυμαρικά, βότανα φυσικής καλλιέργειας, φυσικά και φαρμακευτικά καλλυντικά με βάση το ελαιόλαδο.
https://madeinrhodes.gr/
Have a question?
We are available 24 hours for you
We will always offer you the best lowest price and the best possible services on the rent a car market.
Get in touch
RUOTE RENT A CAR
28th Oktovriou 92 str. Rhodes, Greece 851 00
Greece